All items have an additional mandatory damage waiver charge (DWC) of 10% added to the rental price. This DWC covers the customer against any accidental or unintentional damage caused to the machine during the rental period. The DWC does not cover misuse, abuse, vandalism, or theft. The DWC may be opted out of if Grand Rental Station is provided with an insurance binder stating the renter has coverage for rented equipment up to the value of the machine.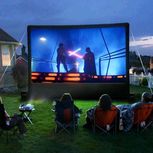 Manufacturer: ninja jump
Model: Screen
The Outdoor Movie Package includes- Large inflatable screen, HD projector, quality speakers, popcorn machine, 25 popcorn containers, 3 packages of popcorn (9 servings ea). The projector can be used with most HDMI devices (dvd/bluray, Roku, Firestick, Xbox, Playstation, Switch). not ...