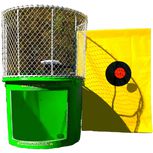 Manufacturer: Twister Display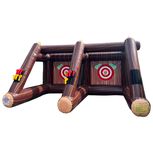 We've transformed this famous western themed attraction into a safe and fun inflatable game for players of all ages. Challenge a friend in a head to head battle with this double unit. Comes equipped with specially designed velcro axe game ...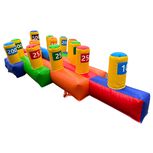 Challenge players with this fun version of a classic carnival ring toss game. This jumbo inflatable ring toss game lets them rack up a win with 25, 50, 100, and even 200 points! Durable oversized PVC pieces make success fun ...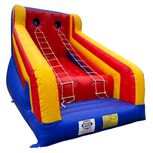 Try if you can to Climb the Ladder. Also known as Jacobs Ladder Inflatable at carnival game booths, this inflatable is a challenging attraction that always draws a line of eager participants wanting to test their skills. Whether riders challenge ...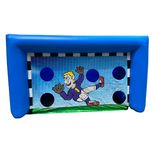 The inflatable soccer shootout is an awesome addition to any soccer or sports themed event. The object of the game is to kick the soccer balls into targets on the inflatable. Soccer fans will love this great 1 player game. ...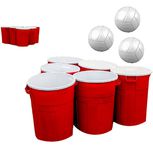 What if you could play a life sized version of Pong at your next party? Well it turns out that now you can! With our new game, Giant Pong, you can enjoy a fun-filled game that takes the excitement of ...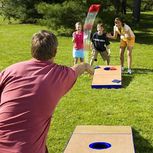 Cornhole is a game of skill where two teams of 2 players try to throw bags full of corn into a hole on a wooden board. The first to 21 wins. Whether it is a corporate event, fundraiser, birthday, graduation, ...